AP Demands Special Status Trending Worldwide | Live Trends Check Here
AP Demands Special Status: After the huge protests, the Central Government has given Ordinance about Jallikattu. This will leads to a hope of AP youth about Special Status. A revolution has been started in AP youth regarding the AP Special Status. #SpecialStatusToAP #APNeedsSpecialStatus #APDemandsSpecialStatus are the tags trending worldwide from January 21, 2017.  Not only Andhra People, But also Telangana people also support these tags and showing their love to the brotherhood state. The Telugu youth changed their DP's in Fb, tagged each other, and all Telugu facebook pages posting frequently with meme's, images about special status. Check out the complete story behind #APDemandsSpecialStatus hashtag, Live updates, Tweets, Difference Between Special Status and Special Package and also check more details from the below article.
You Might Also Like:
Special Status to AP Full Story
At the time of bifurcation. The Andhra Pradesh has left the truncated state without a capital of its own, and mainly a revenue deficit of around Rs 20,000 crore since revenue-generating Hyderabad went to Telangana.
At the time of AP Assembly Elections 2014, The central government announced that they are going to give you a Special Category Status to Andhra Pradesh. But, after two and half years, Union Finance Minister Arun Jaitley, flanked by his colleague M. Venkaiah Naidu, announced that they are going to give a Special Package instead of Special Category Status.
It will lead to some protests and dharnas by some political parties, Even our beloved Power Star Pawan Kalyan also did an event held in Tirupathi to against Special Package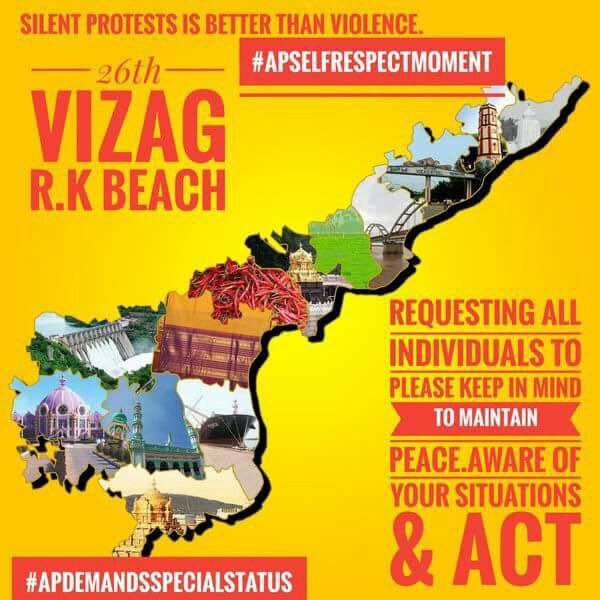 Special Status to AP Protest Date, Place, Venue Details:
According to the few facebook pages, the protests will be held on Republic Day, Jan 26, 2017, and the location is Vizag(Uttarandhra) – RK beach
Date: Jan 26, 2017
Time: After flag hoisting
Place: RK Beach, Vizag
Stay tuned to this page for more details about the protest details.
AP Demands Special Status Tweets and Live Updates
#APDemandsSpecialStatus Tweets

Hashtags to trend AP Special Category Status:
Special Status vs Special Package
Here is the difference between Special Category Status and Special Package
Special Status
Special Package
The constitution recognizes some states as historically in disadvantaged condition.
No constitutional recognition.
Funds must be allocated in every year's annual budget.
The union government need not necessarily allocate funds.
All areas of a state are equally developed.
Only a few areas chosen by the state government are developed.
People of all sections/castes will be benefited.
Only a few sections/castes will be benefited.
No chance of corruption.
High chances of corruption.
Thousands of industries and lakhs of appointments are possible.
Entrepreneurs/ Industries hesitate to invest funds.
Tax Incentives:

·         100% income tax exemption

·         Corporate tax exemption

·         Excise duty exemption

·         Customs duty exemption

(Excise and Customs wont be there seperately once GST implemented  but centre should reimburce this equivalent amount)

Enhanced  investment allowance
30% Capital investment allowance
Accelerated Depreciation
Centre will reimburce insurance premium for industries
3%  Interest subsidy on loans taken to setup industries
Transport charges will also be reimbursed
50% Discount on power bills

Keep share this article to reach maximum numbers and do support Special Status to AP.
Latest Updates:
Check Out the Latest Updates by clicking the below links and Update Yourself.