Miss Universe 2017 Full Show Live Stream | Winner Name & Country
Miss Universe 2017: The 66th Miss Universe pageant, to be held on 26 November 2017. The event is scheduled to be held at The AXIS at Planet Hollywood in Las Vegas, Nevada, United States. The show will be hosted by Steve Harvey and Ashley Graham, while Fergie and Rachel Platten will perform. Miss Universe 2016 Iris Mittenaere will crown the Miss Universe 2017 winner. Contestants from 92 countries and territories participated in this year's pageant. Check out the below article to know about the Miss Universe Final 2017 Full Show Live Streaming, Watch Online, Contestants & Winner details, and more info.
You Might Also Like:
Miss Universe Pageant 2017 Date, Time, Venue, Live Telecast Channel Details
Event Name: 66th Miss Universe Pageant 2017
Date: 26 November 2017
Time: 7 p.m. ET/PT
Venue: The AXIS at Planet Hollywood in Las Vegas
Live Broadcaster: FOX live
Miss Universe 2017 Full Show Watch Online | Live Streaming
The Miss Universe 2017 pageant promises to bring all the beauty, intellect, and talent you can handle in one night, as 92 contestants battle for the crown.
How to Watch Miss Universe 2017 Online:
The 2017 Miss Universe pageant airs Nov. 26 on FOX live from the AXIS at Planet Hollywood in Las Vegas. Check your local listings to find your FOX channel and enjoy. Or, you can check out all the Miss Universe competition on FOX NOW app, which will be streaming the show.
Steve Harvey returns as the host of this year's Miss Universe, which will span three hours, beginning at 7 p.m. ET/PT.
The entire show will be available on the FOX LIVE to stream. DirecTV Now will also air the event. If you don't have access to the above-mentioned links, Miss Universe will also stream the event live on their Facebook page and YouTube channel; so check them out.
The live streaming of Miss Universe 2017 grand finale will be made available on the official website of the beauty pageant MissUniverse.Com.
Click the below link to watch the live streaming of Miss Universe 2017.
66th Miss Universe 2017 Pageant Watch Online
Additionally, the live red carpet will stream on MissUniverse.com, with the website and Miss U app providing exclusive content and highlights.
Fergie and Rachel Platten are set to perform at the competition, with Ashley Graham serving as backstage host and a nice lineup of judges: Ross Matthews, Lele Pons, Jay Manuel, Megan Olivi, Pia Wurtzbach, and Wendy Fitzwilliam. Carson Kressley and Lu Sierra will be on hand for analysis and commentary throughout the night.
Miss Universe 2017 Telecast in India
The coronation ceremony will start 7 PM ET, i.e., 5:30 AM in India and 8 AM in the Philippines on November 27. The event will showcase all the participants and will eventually lead up to top 5 concluding with the winner being announced.
The enthusiasts can follow official pages of Miss Universe 2017 online on Facebook, Twitter, Instagram and YouTube to catch the latest live updates from the event.
Click the below link to watch the live streaming of Miss Universe 2017 in India
Miss Universe 2017 Watch Online in India
Miss Universe 2017 Winner Name and Country Details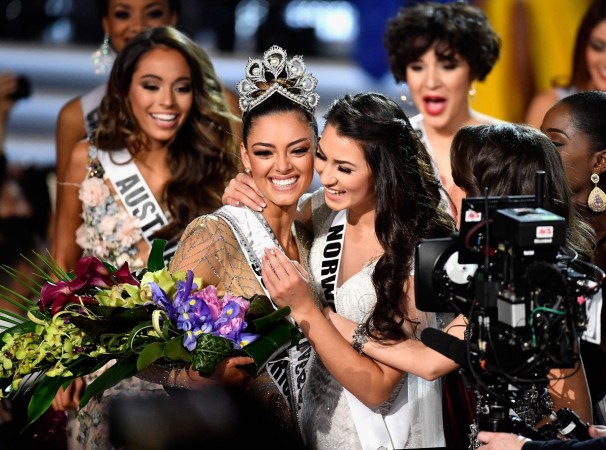 Winner: Miss Universe 2017 winner is Miss South Africa Demi-Leigh Nel-Peters
1st Runner-Up: Miss Colombia Laura González
2nd Runner-Up: Miss Jamaica Davina Bennet
Hope, you like this, Miss Universe 2017 Full Show Live Streaming Online, Live Telecast Channel in India, and Winner details of 66th Miss Universe Beauty Pageant. If you like this, then please share it with your friends…
Latest Updates:
Check Out the Latest Updates by clicking the below links and Update Yourself.