India 73rd Republic Day Celebrations 2022 Live Streaming & Telecast
73rd Republic Day India:  Republic Day Parade is the main attraction in Republic Day Celebrations. The main Republic Day celebration is held in the national capital, New Delhi, at the Rajpath before the President of India. On this day, ceremonious parades take place at the Rajpath, which are performed as a tribute to India. So many news channels and regional channels are telecasting the Live Streaming Republic Day Parade 2022. We are also providing the live streaming  / Online Watch video of 73rd India Republic Day Parade in below article.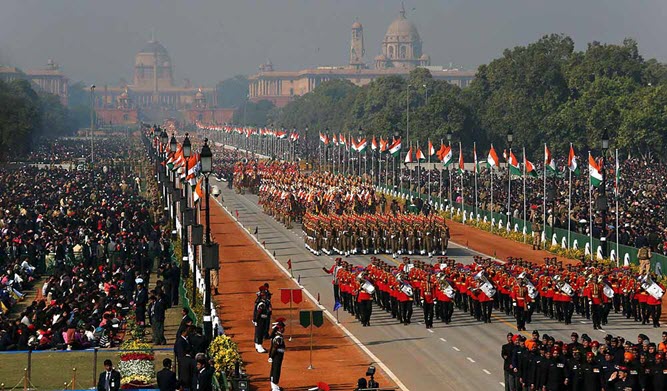 You Might Also Like:
Republic Day Celebration Date, Time, Venue Details
A set of guidelines issued by the Delhi Police state that those attending the Republic Day parade must be fully vaccinated against Covid-19 and children below 15 years of age will not be allowed to attend the function.
Visitors must carry proof of vaccination and must adhere to all Covid-protocols, such as wearing face masks and maintaining social distancing. As many as 21 tableaux – the floats of 12 states and nine ministries or government departments – will be part of the Republic Day parade.
Event: Republic Day Celebrations
Date: January 26, 2022
Time: 9 AM IST
Venue / Place: India Gate, New Delhi, India
Live On: https://indianrdc.mod.gov.in/
73rd Republic Day 2022 Celebrations
The 73rd Republic Day parade will see participants not only from the Indian Army, Air Force, Navy but it will also showcase over 700 students across the guest countries performing at the event.
Republic Day Parade Live Streaming
The Chief Guests will witness India's cultural and social heritage as well as its diversity and defence capability that will be put on display during the parade at Rajpath on 26 January. After the flag hoisting, Prime Minister Narendra Modi will give a speech from Red Fort.
A special programme will be held on January 26 evening, during which Prime Minister Narendra Modi will honour the winners of the Netaji Subhash Chandra Bose Apda Prabandhan Puruskar, which was instituted in 2018, for their contribution to the fields of disaster risk management.
India Republic Day Celebrations Youtube Live Streaming  / Online Watch
We will update the live streaming link of Republic Day Celebrations 2022 on the below space.
Website to check Republic Day Celebrations, President's Address (Speech) and more: https://republicday.nic.in/
Republic Day Parade Tickets / Passes Online Booking and Details
Here are few Departmental counters which are the official ones for ticket buying options in New Delhi:
Pragati Maidan at Bhairon Road Gate No.1
Red Fort, Purani Delhi Palace
Shastri Bhavan at Gate No.1
North Block Roundabout and South Block Roundabout
Jantar Mantar – Main Gate Entrance
India Gate – Jamnagar House Building
Government of India – Tourist Office at Connaught Place in New Delhi
Parliament House at the Reception office Gate
There are other nondepartmental offices as well where you can fetch tickets for the event as early as possible. Here are the locations:
DTDC Counter – Coffee Home, Baba Kharak Singh MG, Opposite Hanuman Mandir, New Delhi
ITDC Counter – Connaught Place, Janpath, New Delhi
DTDC Counter – Dilli Haat
DTDC Counter – Food and Craft Bazaar, Near INA Market, New Delhi
ITDC Counter – Ashok Hotel, Chanakyapuri, New Delhi
Republic Day Parade Ticket Price Details:
For Indian citizens – Opting for the online ticket – Rs.350/-
For Indian citizens – Opting for offline tickets from stores – Rs.300/-
Student tickets – Both offline and online – Rs.50/-
Unreserved tickets – All eligible – Rs.150/
Unreserved – Student Tickets – Rs.10/-
If you are visiting the office of DTDC or Government offices as per listed above, payments are accepted in form of digital format as well. The price of tickets can be paid in the form of Debit card / Credit card / Wallet payments.
Hope You like this Republic Day Parade 2022 Live Streaming, Online Watch. If you like this, then please share it with your friends who are eagerly waiting to watch the 73rd India Republic Day Celebrations.
Latest Updates:
Check Out the Latest Updates by clicking the below links and Update Yourself.